Home >
Frequency Domain Signal Processing
John Edwards - Watch Now!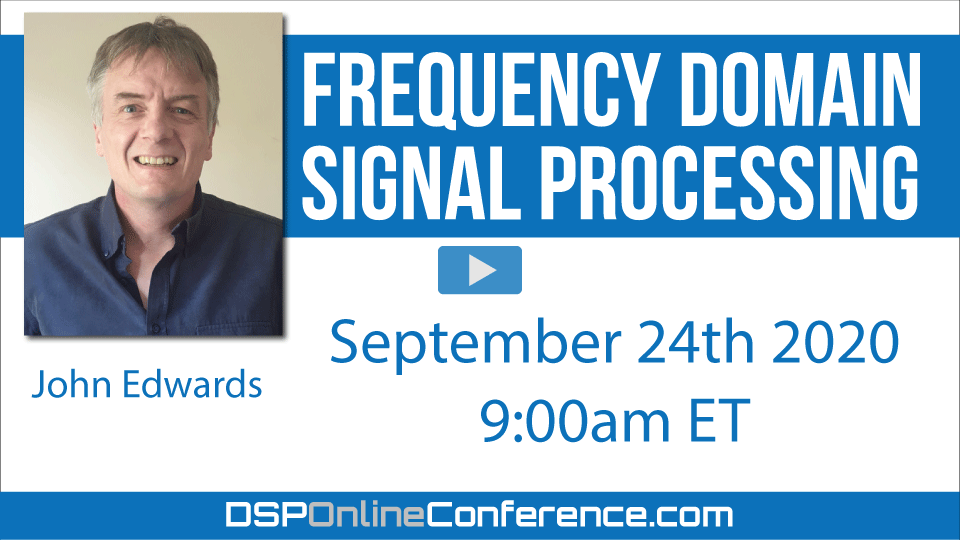 This talk will be followed by a Live Q&A Discussion on Zoom.
Frequency domain signal processing is not just about using the Fast Fourier Transform for calculating a power spectrum, it is also a very efficient method of processing signals compared to traditional time domain techniques. This presentation will describe several common frequency domain algorithms and show how they are used. Examples will include Frequency Domain Filtering, Time Delay Estimation and Interpolation; and more.
DHMarinov
Score:
0
| 7 months ago |
1 reply
Score:
0
| 7 months ago | no reply
Score:
0
| 7 months ago |
1 reply
Score:
0
| 7 months ago | no reply
HardRealTime
Score:
0
| 8 months ago |
1 reply
Score:
0
| 8 months ago | no reply
stefg
Score:
0
| 8 months ago |
1 reply
Score:
0
| 8 months ago | no reply
Score:
0
| 8 months ago | no reply
Brewster
Score:
0
| 8 months ago |
1 reply
Score:
0
| 8 months ago | no reply
ChrisBore
Score:
0
| 8 months ago |
1 reply
Score:
0
| 8 months ago | no reply
christophe.blouet
Score:
0
| 8 months ago |
1 reply
Score:
0
| 8 months ago | no reply
AllenDowney
Score:
0
| 8 months ago |
1 reply
Score:
0
| 8 months ago | no reply
Danilo
Score:
0
| 8 months ago |
1 reply
Score:
0
| 8 months ago | no reply
ChrisBore
Score:
0
| 8 months ago |
1 reply
Score:
0
| 8 months ago | no reply
Brewster
Score:
0
| 8 months ago |
1 reply
Score:
0
| 8 months ago | no reply
AaronEdwards
Score:
0
| 8 months ago |
1 reply
Score:
0
| 8 months ago | no reply
woodpecker
Score:
0
| 8 months ago |
1 reply
Score:
0
| 8 months ago | no reply
jonbram
Score:
1
| 8 months ago |
1 reply
Score:
1
| 8 months ago |
1 reply
jonbram
Score:
0
| 8 months ago | no reply