Home >
Demystifying Beamformers
Paul Beckmann - Watch Now!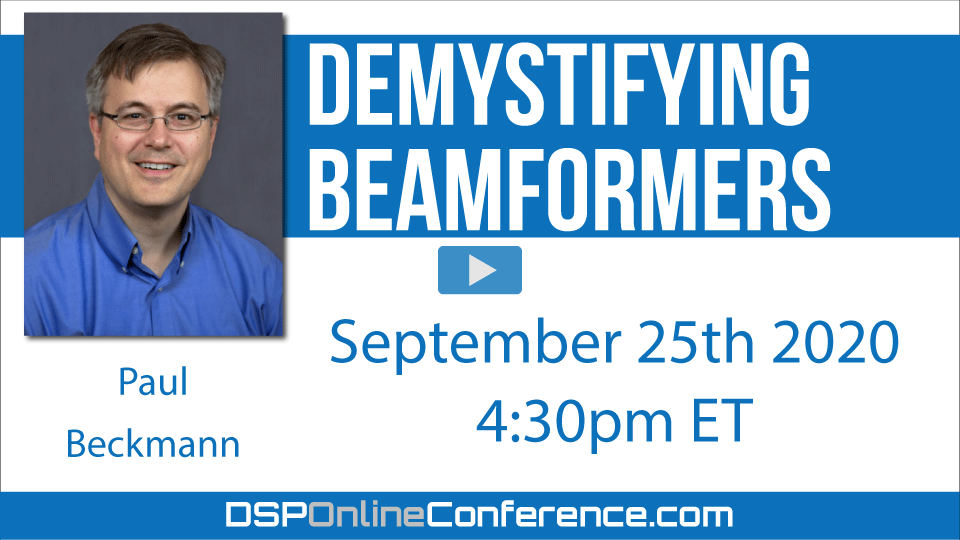 This talk will be followed by a Live Q&A Discussion on Zoom.
Lately there has been a resurgence of interest in beamformers following the success of the Amazon Echo. This talk presents beamformers in a simple-to-understand and straightforward light. You'll understand how the number of microphones and geometry impacts performance. The importance of microphone matching and SNR, and even how to create steerable arrays. The talk has a minimum of math and an emphasis on practical applications. Although the focus is on audio, the techniques presented extend to other applications such as RF.
doc_cls
Score:
0
| 7 months ago | no reply
RK
Score:
0
| 8 months ago |
1 reply
Score:
0
| 8 months ago | no reply
scaffee
Score:
0
| 8 months ago | no reply
BradVS
Score:
0
| 8 months ago | no reply
SanjeevSarpal
Score:
0
| 8 months ago | no reply
christophe.blouet
Score:
0
| 8 months ago |
1 reply
Score:
0
| 8 months ago | no reply
Score:
0
| 8 months ago | no reply