Home >
Spectrometer Signal Processing Systems for NASA Space Applications
Damon Bradley - Watch Now!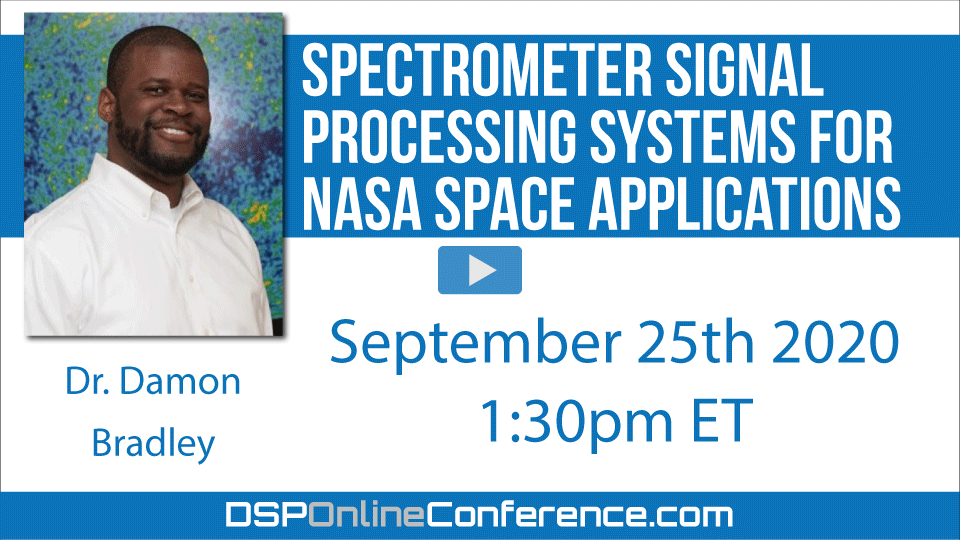 This talk will be followed by a Live Q&A Discussion on Zoom.
For many NASA Space Science Instruments flown aboard various spacecraft, digital spectrometers are a very common instrument class. These instruments are used for a vast array of scientific monitoring and observational applications, such as detecting organic compounds on distant planetary satellites in the solar system, measuring solar plasma interaction with the surface of our own Moon, monitoring geophysical parameters here on Earth, and determining the composition of exoplanet atmospheres several light years away. In particular, these instruments process signals arising from a vast swath of the radio spectrum, covering frequencies from near DC all the way up to sub-mm THz frequencies. Moreover, these systems must operate under extreme conditions of temperature and radiation environment, while also performing efficient computation under severe power constraints. This talk will cover practical implementation of digital spectrometers for these space applications, as well as some of the statistical signal processing methods used for detecting various phenomena in-orbit for particular Earth-observing instruments.
S.Sharif
Score:
0
| 8 months ago |
1 reply
Score:
1
| 8 months ago |
1 reply
S.Sharif
Score:
0
| 8 months ago | no reply
christophe.blouet
Score:
0
| 8 months ago |
1 reply
Score:
0
| 8 months ago |
1 reply
christophe.blouet
Score:
0
| 8 months ago | no reply
Brewster
Score:
0
| 8 months ago |
1 reply
Score:
0
| 8 months ago | no reply
shettysid
Score:
1
| 8 months ago |
1 reply
Score:
1
| 8 months ago |
2 replies
Score:
0
| 8 months ago |
1 reply
shettysid
Score:
0
| 8 months ago | no reply
shettysid
Score:
0
| 8 months ago |
1 reply
Score:
0
| 8 months ago | no reply
shettysid
Score:
0
| 8 months ago |
1 reply
Score:
0
| 8 months ago |
1 reply
shettysid
Score:
0
| 8 months ago |
1 reply
Score:
1
| 8 months ago | no reply