Home >
Pragmatic Methods to Decide Filter Requirements
Chris Bore - Watch Now!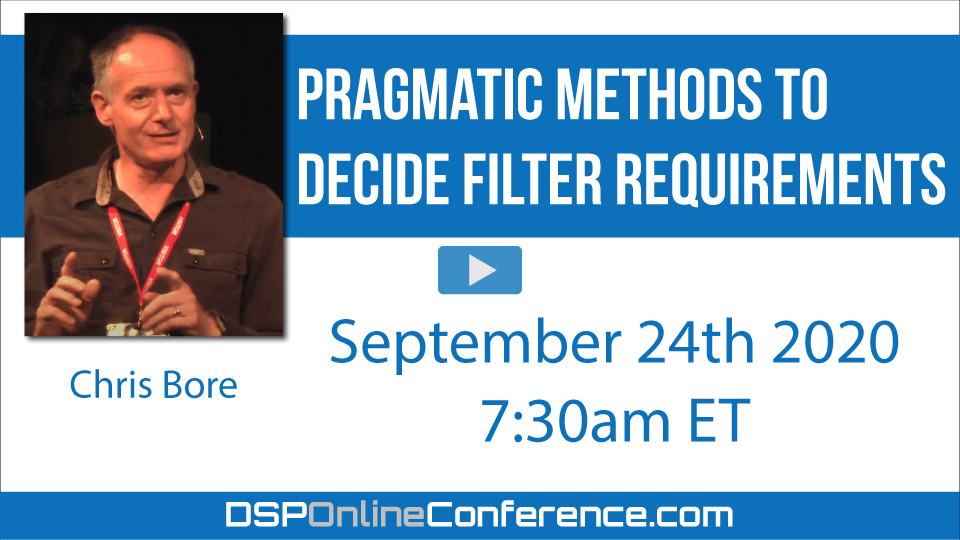 This talk will be followed by a Live Q&A Discussion on Zoom.
While digital filter design – given a filter specification - is very well covered in numerous works, the essential practical question of how to arrive at the filter specification from the application is largely ignored: so the practicing engineer is faced with a well developed design methodology, but very little information to guide in specifying what to design. Similarly, there is little information available to guide decisions on the hardware platforms that are suitable to implement such a specification – including balancing issues such as numeric precision, speed, cost and power consumption – to assess whether the requirement may be met in a cost effective way: so the practicing engineer has limited guidance in deciding whether the application requirement may be met at all given practical constraints. The result is that engineers have limited ability to quickly assess whether a filtering requirement can be met: and digital filters very often under- or over-perform and are often implemented on needlessly costly or power-hungry hardware platforms. This talk addresses these twin gaps in the filter designer's toolbox and outlines, with specific methods and examples, how the specification for a digital filter may be arrived at from consideration of the application aim and requirement. It also describes, again with specific methods and examples, how to arrive at a specification for the hardware platform necessary to implement such a filter. It does not address the issue of designing such a filter, which is very well covered in numerous texts elsewhere.
SlightlyChaotic
Score:
0
| 8 months ago |
1 reply
Score:
0
| 7 months ago | no reply
KhaledDSP
Score:
0
| 8 months ago |
2 replies
Score:
0
| 7 months ago | no reply
KhaledDSP
Score:
0
| 8 months ago | no reply
Stephane.Boucher
Score:
1
| 8 months ago |
3 replies
Vladimir.Nesterov
Score:
0
| 8 months ago |
1 reply
Score:
0
| 8 months ago | no reply
suds
Score:
0
| 8 months ago | no reply
pb
Score:
0
| 8 months ago | no reply
HardRealTime
Score:
0
| 8 months ago | no reply
john.edwards
Score:
1
| 8 months ago | no reply
Moses
Score:
0
| 8 months ago |
1 reply
Score:
0
| 8 months ago | no reply
CoryClark
Score:
0
| 8 months ago |
2 replies
Stephane.Boucher
Score:
1
| 8 months ago | no reply
Score:
0
| 8 months ago | no reply
Leonard
Score:
0
| 8 months ago |
1 reply
Score:
0
| 8 months ago |
1 reply
Score:
0
| 8 months ago | no reply
woodpecker
Score:
0
| 8 months ago | no reply
SlightlyChaotic
Score:
0
| 8 months ago | no reply
Danilo
Score:
0
| 8 months ago |
1 reply
Score:
0
| 8 months ago | no reply
Score:
0
| 8 months ago | no reply
Score:
0
| 8 months ago | no reply
SanjeevSarpal
Score:
0
| 8 months ago |
1 reply
Score:
0
| 8 months ago | no reply
Score:
0
| 8 months ago | no reply
Score:
0
| 8 months ago | no reply
Score:
0
| 8 months ago | no reply
Score:
0
| 8 months ago | no reply
Score:
0
| 8 months ago | no reply
SanjeevSarpal
Score:
0
| 8 months ago |
1 reply
stephb
Score:
0
| 8 months ago |
1 reply
Score:
0
| 8 months ago | no reply
Score:
0
| 8 months ago |
1 reply
stephb
Score:
0
| 8 months ago | no reply
SanjeevSarpal
Score:
0
| 8 months ago | no reply
Score:
0
| 8 months ago | no reply
Score:
0
| 8 months ago | no reply
Score:
0
| 8 months ago |
1 reply
Stephane.Boucher
Score:
0
| 8 months ago | no reply
Score:
0
| 8 months ago | no reply
Score:
0
| 8 months ago | no reply
Stephane.Boucher
Score:
0
| 8 months ago | no reply